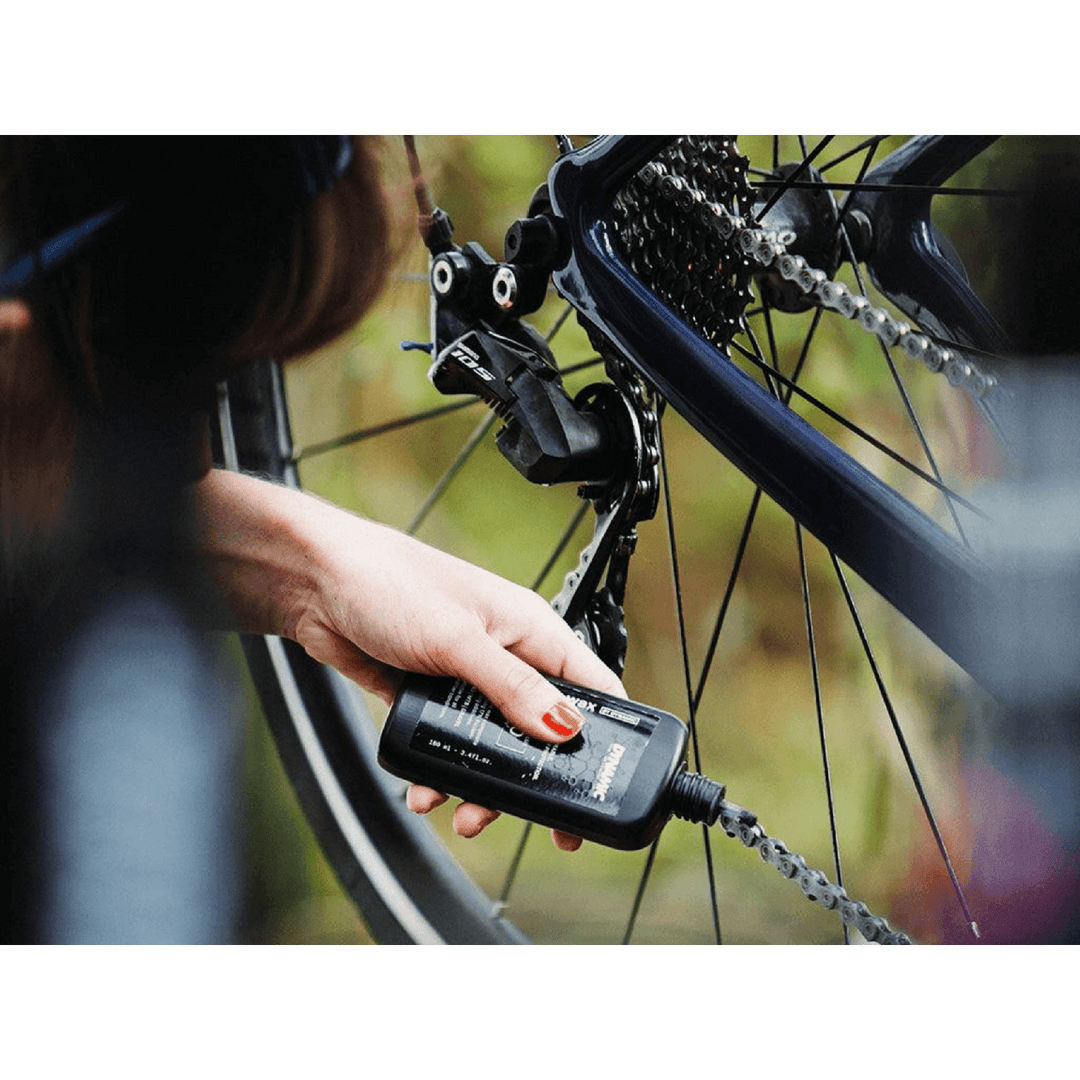 Dynamic Speed Potion Wax-Pro's Choice Lube
DY-001_Std
Regular price
₹ 1,450.00
Sale price
₹ 1,160.00
Save 20%
/
Tax included.
Shipping
calculated at checkout.
---
Experience the thrill of unparalleled speed with Dynamic Speed Potion Wax, the ultimate bicycle chain coating. Crafted with a top-grade wax composite boasting over 17% friction-reducing additives, this unique formula propels you to new levels of performance.
Reach New Speeds:
Unleash your full potential with Speed Potion Wax. Designed to make you faster, this revolutionary chain coating optimizes every watt by minimizing friction and maximizing efficiency. Feel the difference as you accelerate to new speeds.
Maximum Wear Protection:
Speed Potion Wax goes beyond speed—it's built to last. The extremely durable formula provides maximum wear protection, ensuring your chain remains in top condition even during intense rides and demanding conditions.
A Clean Chain, Always:
Bid farewell to grime and dirt that slow you down. Speed Potion Wax keeps your chain clean, further enhancing its efficiency and performance. Say hello to a smoother, more enjoyable ride.
Crafted by Pros, For Pros:
Speed Potion Wax is the result of collaboration with pro riders and mechanics from the World Tour. Embrace the lubricant trusted by professionals, and experience firsthand why it's the fastest lubricant out there.
Compact and Convenient:
In a compact 37ml bottle, Speed Potion Wax is the ideal choice for cyclists seeking the ultimate speed advantage. Try it now and witness the transformation in your riding experience.
Speed Potion Wax:
Makes you faster.
Is designed for riders who produce above average power.
Provides for long maintenance intervals.
Keeps your chain dry and clean.
Is long lasting and durable.
Is developed with pro riders.
Features
Features of Dynamic Speed Potion Wax-Pro's Choice Lube
The unique, wax based coating comes in liquid form which hardens out completely after application. The coating that is formed on the chain links is completely dry and clean.
Fast: Due to a unique formula containing an innovative emulsifier, it was possible to add more friction reducing additives than ever before. The natural wax composite is now drenched in materials that minimize friction and save precious watts.
Durable: Speed Potion Wax is extremely adhesive when hardened and penetrates very well into the chain in liquid form. The elasticity of the coating ensures a long-lasting effect. Depending on the conditions, the wax emulsion will outperform any other lubricant. Not only reducing friction, but also protecting against wear. Extremely wet conditions are never great for a wax based product, when it is pouring with rain we recommend using an oil based lubricant, specific for wet conditions.
Clean: Oiling chain links to reduce friction equals adding a sticky layer to your bicycle chain. Dirt sticks to the oil, contaminating the links and increasing friction which slows you down. By using a wax coating that hardens out completely, your chain remains dry, smooth and free of dirt.
Brugger: The Brugger value indicates elasticity and pressure resilience. A higher Brugger value equals a more resilient lubricant that is more durable and continues to perform under higher pressure. Especially solid wax coatings benefit from a high Brugger value, since they are unable to re-lubricate when displaced. Speed Potion Wax stands out with a very high Brugger value of 130N/mm2, making this wax ideal for riders that produce more watts than average.
Application
Application of Dynamic Speed Potion Wax-Pro's Choice Lube
Please make sure to completely degrease your chain to ensure good adhesion. Even when the chain is new, there is a factory lubricant on it which makes it very hard for a wax product to stick to the metal surface. Rinse the chain well after using a degreasing chain cleaner and let it dry out completely.
Always shake the bottle vigorously before opening it, the oxygen in the bottle can cause some of the wax to harden in the nozzle of the bottle, and it is best to make sure this is mixed in well. Always apply Speed Potion Wax at least 2 hours before riding, preferably longer (24 hours). This way the wax is able to solidify completely. Adhesion will be at the best level after 24 hours and this will have a positive effect on the durability of the coating.
Initial Application: Option1
Apply 1 drop to every chain link, both on the inside of the chain and on the outside. Don't over- or underdo it. Excess wax will harden around the pulley wheels and can easily be removed with a brush or cloth.
Initial Application: Option 2
Remove the chain from the bike and clean as described. Fill a strong plastic bag or a small container with Speed Potion Wax and immerse the chain into the liquid. Make sure no more air bubbles come out of the chain when you shake the bag or container. Take the chain out of the fluid and let it dry completely before remounting.
Re-Applying: When you feel you want or need to re-lube the chain, clean the chain gently with a brush or cloth and add 1 drop to every chain link. Depending on the condition of the chain and your plans you can do this only on the inside or on both the in- and outside of the chain.
Storage And Temperatures: Creating a super adhesive coating that penetrates well into the chain and is extremely durable took us the longest. To make all of this possible we have added an important application guideline; always do so between 15°C and 35°C. After the coating has hardened, it can easily withstand higher and lower temperatures. The formula reacts to oxygen, so please keep the cap on the bottle as much as possible.
Biodegradable: Not unique but still important to us; Speed Potion Wax is biodegradable. It degrades quickly and completely, which is unique.
Developed With The Pro's: Speed Potion Wax is developed together with pro riders and mechanics who's daily stage is the World Tour. It's designed for riders who produce above average power, Speed Potion Wax is the fastest lubricant out there.
---