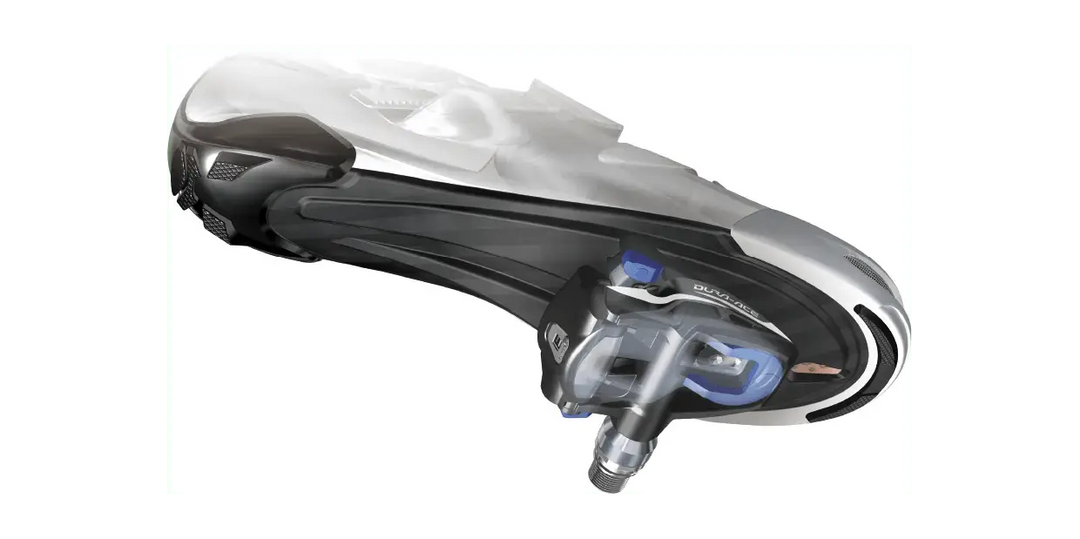 Shimano Ultegra PD-R8000 SPD-SL Pedals
IPDR8000
Regular price
₹ 14,240.00
/
Tax included.
Shipping
calculated at checkout.
---
Enhance Your Road Competition Performance with Shimano Ultegra PD-R8000 SPD-SL Pedals
Step up your road competition game with the Shimano Ultegra PD-R8000 SPD-SL Pedals. These single-sided pedals offer high-performance features, including a carbon body, designed to optimize your power transfer and elevate your road racing experience.
Carbon Body for Lightweight Performance The PD-R8000 pedals boast a carbon body, which significantly reduces weight while maintaining excellent strength and durability. This lightweight design enhances your pedaling efficiency and minimizes fatigue during intense road competitions.
Optimal Power Transfer with Single-Sided Design The single-sided design of the Ultegra PD-R8000 pedals maximizes power transfer by ensuring that every ounce of effort you put into your pedal stroke translates directly into propelling your bike forward. Experience the advantage of efficient energy transfer, giving you a competitive edge.
Perfect for Road Competition Engineered for road competition, the PD-R8000 SPD-SL pedals cater to the demands of intense racing scenarios. Enjoy fast engagement and disengagement, enabling quick accelerations, controlled descents, and sharp turns during races.
Reliable Shimano SPD-SL Technology With Shimano SPD-SL technology, these pedals offer secure and stable cleat engagement, providing confidence in your pedal stroke and minimizing any unwanted movement. The reliable cleat retention system ensures your feet stay firmly connected to the pedals.
Features
Features of Shimano Ultegra PD-R8000 SPD-SL Pedals
Lightweight Carbon-Composite Body: Reducing overall weight without compromising on durability and performance. This construction enhances your cycling efficiency and minimizes pedal weight.
Extra-Wide Platform for Efficient Power Transfer: These pedals offer an optimal surface area for your feet, ensuring efficient power transfer from your legs to the bike. Experience improved stability and a more effective pedal stroke.
Durable Stainless Steel Body Plate: The pedals come with a durable stainless steel body plate, reducing flex and wear on the pedal body. This feature contributes to their longevity and ensures consistent performance over extended use.
Adjustable Entry and Release Tension Settings: The PD-R8000 SPD-SL pedals allow you to customize the entry and release tension settings according to your preference. Easily find the perfect balance between security and ease of engagement.
Shimano Style, Quality, and Durability: As part of the Shimano Ultegra series, these pedals embody the renowned Shimano style, quality, and durability that cyclists value. Trust in their performance and reliability during every ride.
4 mm Longer Axle Available: For riders seeking an extended axle length, the PD-R8000 pedals offer a 4 mm longer option. This accommodates a wider range of foot positions, providing personalized comfort and efficiency.
Specifications
Specifications of Shimano Ultegra PD-R8000 SPD-SL Pedals
Model No

PD-R8000

Series

Ultegra R8000 Series

Color

CFRP

Average Weight

248 ( /pair)

Remarks

4 mm longer axle available

Type

Road

Binding

Single sided

Cartridge Axle

Yes

S

ealed Mechanism

Yes

C

leat Retention Adjuster

Yes

C

leat included

SM-SH11

Optional Cleat

SM-SH10, SM-SH12

R

eflector

SM-PD63

W

ide Platform

Yes

S

tack Height (mm)

15.8

P

edal Center (mm)

53
R

oad Clearance (deg.)

33
Technologies
Technologies of Shimano Ultegra PD-R8000 SPD-SL Pedals
Shimano Pedaling Dynamics SL (SPD SL):
Pro's To You
Born of the pro tour demand for optimal power and endurance, the low-profile pedal technology has expanded to a wide range of cyclists, including competitors at all levels, sport, club and recreational riders. SPD-SL is a road pedal platform systematically engineered with Shimano footwear to transfer more power from your body to your bike. For pro riders the extra-wide, low-profile cleat distributes energy more evenly over a wider surface and transfers it more efficiently to the bike, under the most extreme pedaling loads. No wasted movement. No loss to flex, voids or mismatched shoe/pedal designs. It's a core advantage that helps win races. The same energy efficiency that powers pro riders to the podium enhances the experience of other rider categories. Increased endurance for longer rides. More comfort and fun! System-engineered. Rider-tuned. You choose.

Power Transfer Efficiency
SPD-SL is the road specific refinement of the system. This pedal platform was designed specifically for the needs of world-class road racers. The seamless pedal and cleat interface for a more efficient power transfer under the extreme pedaling loads encountered in race competitions.

4mm Longer Axle:
Shimano's optional extended axle adds 4mm to the distance between the crank and the foot position. This allows riders with naturally wider hips to maintain correct leg and foot alignment on the pedals.
---